Bill would ban local governments from establishing development agreements with foreign adversaries
China, Russia, Iran, Cuba, North Korea and Venezuela's Maduro regime are all listed as foreign adversaries by the U.S. Secretary of Commerce.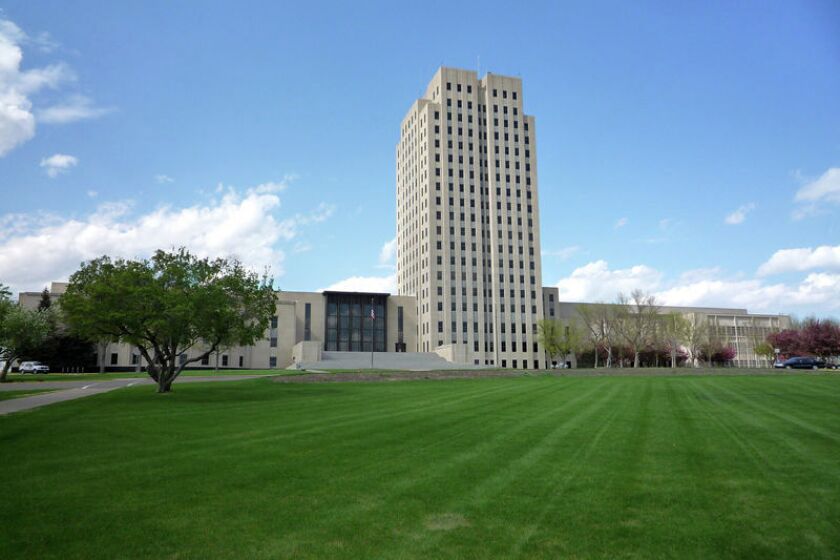 BISMARCK — Members of the Senate Judiciary Committee heard testimony on Wednesday, Feb. 8, on a bill seeking to prohibit county commissions and city councils from establishing development agreements with entities deemed "foreign adversaries" of the United States.
Senate Bill 2371, introduced by Sen. Bob Paulson, R-Minot, states "a board of county commissioners, including a board in a home rule county, may not procure, authorize, or approve a development agreement, building plan, or proposal relating to county development with an individual or government identified as a foreign adversary" by the U.S. Secretary of Commerce. Any ordinance previously adopted by a county which is contrary to the section is void, the bill said.
Additionally, the bill is being introduced as an emergency measure, meaning if it passes both legislative bodies and is signed by Gov. Doug Burgum, it would become law immediately.
The Secretary of Commerce list includes Cuba, Russia, The People's Republic of China, Iran, North Korea and the regime of Nicolas Maduro in Venezuela.
Paulson said the bill's introduction was prompted by the recently defeated Fufeng wet corn milling operation in Grand Forks. He said despite the project not moving forward after a report from the Air Force cited national security concerns, the bill is necessary due to Paulson's belief that the Committee on Foreign Investment of the United States, or CIFUS, did not adequately review Fufeng's proposal.
"You will likely hear that this bill is unnecessary, because we have a process for vetting purchases of North Dakota land by foreign adversaries," said Paulson. "I would ask the committee to consider that Fufeng went through the review process by CFIUS, and was allowed to proceed."
Testifying in favor of the bill, Christopher Holton, senior analyst and director of state outreach at the Center for Security Policy, said Chinese firms represent a threat to U.S. security interests due to an inextricable link with the Communist Party.
"Communist China has been waging a highly unconventional conflict against the U.S., in a campaign that has been labeled by the people's liberation doctrine as unrestricted warfare," Holton said. "Part of that includes strategic acquisitions by state-backed Chinese companies and communist party members to pay top dollar for U.S. companies and agricultural land. Senate Bill 2371 is not part of a protectionist or anti-foreign movement – North Dakota serves, along with many other states, as the bread basket for the world."
Holton added that foreign investors from "friendly countries," including Canada, Germany and Italy, already own millions of acres of U.S. farmland, and that the U.S. should welcome such relations. However, Holton contends that "China is a different case." He claimed Chinese entities are invariably controlled by the communist government, and that government has been decidedly hostile toward America."
Testifying in opposition, Keith Lund, president and CEO of the Grand Forks Region Economic Development Corporation, said the bill's language would prohibit foreign-owned entities that have already undergone federal review from expanding their operations.
Lund said the bill is "far reaching and does not recognize federal procedures put in place to govern foreign businesses investments and operations" and asked the committee to consider Cirrus Aircraft while deliberating the bill.
Cirrus opened its Grand Forks facility in 1997, and is a "model corporate citizen," Lund said. In 2011, Cirrus was acquired by the China Aviation Industry General Aircraft Company. Prior to that purchase, the company went through a review by the Committee on Foreign Investment in the United States. The federal panel approved the acquisition and the company has since "invested significantly in its manufacturing facility, in its employees and in the community," Lund said, adding the company employs 430 people at its Grand Forks plant with more plans for growth.
"If approved as written, Senate Bill 2371 would prohibit the city of Grand Forks from issuing a building permit for Cirrus' planned expansion, eliminating the possibility of additional property tax and employment growth," he said.
There was no vote on the bill on Wednesday.